Come to the Puppy Stop to see the difference. We're sticklers for cleanliness for everything.
All pups are in pens (no cages) with at least one roommate. No puppy is shipped in.
We are glad to answer questions from the first time pet owner to the experienced dog owners in-store or by phone.
We carry numerous breeds and mixes as well as supplies critical in helping your puppy get off to a good start.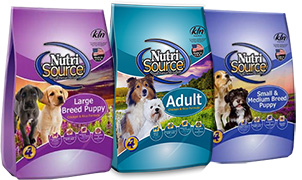 The growth period is a delicate time in a puppy's life, his or her immune system is still developing.
Nutri Source food is one of the best foods a puppy can have and we carry it at The Puppy Stop.
Know Your Source!
Made with real chicken #1 ingredient, highly digestible rice, barley and oatmeal formula. Balanced Omgea 3 & 6 nutrition, no by-proucts, now whole corn. Naturally preserved with mixed Tocopherols (a source of vitamen E) and Sel-Plex® Proteinated Selenium.