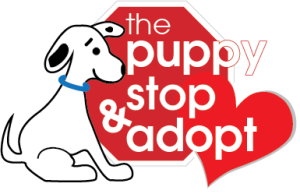 The Puppy Stop & Adopt is a Store-Front Adoption Center located in Turnersville NJ.
Over the years our business name has changed and we have evolved to sourcing 100% of our puppies and adult dogs from shelters and rescues. Many of these pups have a back story. Our mission is to go forward in matching these pups that need a home with a loving family and forever home.
THE PROCESS:
First step is to fill out an adoption application (located on this website under the "Puppy Adoption Process" menu or on-site at TPSA). Next, present the hard copy to a manager on site at TPSA. This will prompt an informal interview and question/answer session. Our goal is to make sure you understand this is serious and not any impulse type of decision. The final step is picking out your newest family member.
WHAT WE ARE NOT:
Please do not confuse us with a shelter. We are not a public shelter or rescue. A county shelter is set up as a non-profit. They receive funds from local townships, donations, grants and assorted government money and are not taxed. Conversely TPSA does not receive donations, so all expenses (rescue/shelter payments, mortgage, insurance, payroll, veterinarian, shots, medications, electricity, taxes, etc.) need to be covered by adoption fees .TPSA pays state and local taxes.  TPSA finds a home for every pup. We also have a NJ state health care guarantee with each pup (covers 14 days infectious/contagious and 6 months hereditary defects).
Information About The Pups:
• No pup is under 8 weeks of age.
• It would be nice if each pup came to the original rescue or shelter without any issues and complete information regarding breed makeup, birthday, vet history, etc. This is not reality, So from the moment they are rescued through the time we acquire them, everyone involved in the process provided educated opinions on what they are and how old they are.
• All pups over 12 weeks old prior to TPSA receiving will have a rabies shot.
• All pups are vaccinated against viruses, illnesses and dewormed. Despite vaccinations this does not guarantee the pup will not get sick. Your vet will set up a vaccination and worming schedule for your pup upon your first visit.
• Many are already spayed or neutered, but not all of them.
We love pets and believe all dogs deserve a good, loving home.
Stop on in and visit our pups, they'll be happy to meet you!
We are located at 138 Fries Mill Road in the Birches Strip Mall, Turnersville, NJ 08021
Next to ALDI on the BHP/Rt. 42.
Open every day at noon until 6pm on Fri./Sat. and Sun.-Thur. until 5pm.